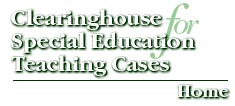 3) Assessment, Diagnosis, and Evaluation
Click on titles to see full text.
Click on the back button of the browser to return to this page.
A Consequence of Testing ALL Student
Alexis Shuban, a high school special education supervisor is shocked when a student earns an unusually high score on an eleventh grade achievement test. His score is so high, in fact, that he would be eligible for an academic scholarship if he had taken a college preparatory program of study. Unfortunately, this student, a high school senior, has been in special education classes since the 5th grade and has not taken a college preparatory program.
Marrissa is a bright child who is friendly and empathetic. Ms. Churchill, her special education teacher, is concerned because she believes that Marrissa is in special education classes only because of her family situation. Although doing well academically in both her general and special education classes, Marrissa is often left with irresponsible relatives where she is severely neglected while her mother goes out of town.
Liz Shaw, a school psychologist for the Blackwood School District is presented with a crisis situation involving a student, Jimmy Landon. She recognizes the seriousness of the situation but is bound by a three-week waiting list. Meanwhile, Jimmy bizarre behaviors are escalating and his teacher is concerned.
Is It Fair?
New technology is currently available to partially restore hearing to children once profoundly deaf. Optimally the implants are done by age two - Rosa Hernandez is now five and the only school to help her adjust is three hours away. A language barrier seems the largest obstacle to hurdle but the sacrifice may be too large.
Serge Romanich, a third grade student and refugee from Serbia, spoke limited English and had seen war first hand; his father killed and mother maimed. His education had been sporadic at best and the new elementary school he was attending had tested and classified him as learning disabled
When her second graders were given a standardized test, Janet, a new teacher at an inner-city elementary school finds her suspicions were confirmed. The words she had been told that she needed to assure her students knew were the exact words on the test.
Jared is a welcome addition to Ms. Dennison's class at a special school for students who are emotionally disturbed. He is the only student in the class who smiles continually, shows concern for others, follows directions, and is generally a likable character. Ms. Dennison, disagreeing with the psycho-educational reports that placed Jared in her class, is concerned that Jared is mislabeled.
Simone was struggling in Lisa Flannery's second grade class despite Lisa's efforts to adapt her lessons and support form the bilingual department. Simone's family immigrated from the Philippines with high hopes of Simone becoming a doctor one day. Lisa suspects Simone is having learning problems but her family is unwilling to accept a special education label for her.
Margaret Boggs, a middle school special education resource teacher, enjoys collaborating with her student's general education teachers. Wayne, one of her more challenging students is having particular problems with one of his teachers, Doris Walker, who is demanding that Wayne be taken out of her classroom and moved to a more restrictive setting. Margaret, in an attempt to advocate on Wayne's behalf, finds herself at odds with Doris.
Supplemental Cases
(These cases can be used to address the competency but must be supported with additional questions and structure from the instructor)
Beth Langly, a first year intern struggles with her "constructivist" philosophy and the demands of teaching high school science. Her supervising teacher, a twenty-year veteran of the classroom, is not inclined to try new methods of instruction.

Back to CEC Competency Index Page.