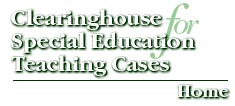 6) Managing Student Behavior and Social Interaction Skill

Click on titles to see full text.

Click on the back button of the browser to return to this page.

A Cycle of Conflict in the Classroom

James, a student in Diane Newton's kindergarten class begins his educational experience by kicking the teacher. Connie, Mitchell Elementary's school counselor, struggles to deflate the escalating conflict when Diane demands that James be placed in a classroom for students with emotional disabilities.

Back To Square One Rachel and Leanne were expecting another great year co-teaching a combined 3rd, 4th, and 5th grade class with equal numbers of both general education and exceptional education students. Many students are returning from last year including Thomas, a fourth grader with learning disabilities and ADHD. When Thomas's mother has significant health problems, his behavior regresses and the whole class suffers.

Charlotte Dempsy is a teacher at a special school for elementary school aged students with severe emotional disorders. She feels that eleven-year-old Charlie is the only student in her 23 years of teaching that she can't reach. Coming from a highly dysfunctional family, and exhibiting extreme obsessive/compulsive behaviors, Charlie is also a master of manipulation. Almost out of ideas, Charlotte decides to reach out and hug Charlie every time he gets in her face. Charlie responds by accusing Charlotte of molesting him and threatens to tell his father.

Two special education teachers attempt to integrate a new student with severe behaviors into their class for students with language and learning disabilities. Because this student takes so much attention and time, they worry about how the other students in the class are faring as a result.

Carl's behavior had changed after his parents' bitter divorce three months ago, from self abuse to aggression towards his new classroom teacher, Mrs. Taylor. Susan, just out of college, in her first job as a special education teacher is finding it difficult to adjust to the demands of a rural school cooperative system where resources and services are shared and supervision is minimal.

Hands Off

Stan Kricek was an intern (student teacher) with three weeks left in a small self-contained class for middle school students with severe emotional disabilities. Left alone to teach a lesson, Stan instructed a student to pick her head up off her desk and get back on task. He placed his hand on her shoulder as he spoke to her. Soon thereafter, Stan was accused of hitting the student.

Jake is an energetic first grader with a learning disability. Although he is considered one of the gang as far as his classmates are concerned and is excelling academically during the two hours he is included in a general education class, Betty, his general education teacher feels he just "wouldn't fit in" to a general education classroom full time. On the other hand, Sharon, his resource teacher, sees no reason why he would not be successful.

Liz Shaw, a school psychologist for the Blackwood School District is presented with a crisis situation involving a student, Jimmy Landon. She recognizes the seriousness of the situation but is bound by a three-week waiting list. Meanwhile, Jimmy bizarre behaviors are escalating and his teacher is concerned.

Is It Possible To Be Too Helpful?

Anita Miller, is in her first year of teaching middle school students with learning disabilities. She makes a special effort to help Donald, one of her more needy and difficult students, by tutoring him after school, adapting his regular classroom assignments, and allowing his other teacher to send him to her classroom when his behavior gets out of control. After a Pep Club special event, when Anita drives a group of students home, Donald manages to be the last to be dropped off. He deliberately gives her incorrect directions to his house which prolongs the time they are alone together in the car.

More Than a Teacher

Linda is a teacher in charge of all the 9th graders with learning and/or behavior problems in a large urban school. Dominique, one of her students, is experiencing serious health and emotional problems. The mother, in the midst of a family crisis, is not attentive to her daughter's needs. Linda wants to help but wonders about what her role should be.

Jerry Hastings has been interning in Karen Warren's middle school class for students with Severe Emotional Disturbance for several months. He didn't always agree with her use of candy as a reinforcer, but this time she crossed the line when she bribed the kids to behave while she was being observed by District Review personnel.

When the six special education classes at Valley Elementary have to be realigned into four, Tom Jefferies, a fifth grade student, has to return to his primary class with his old teacher, Lisa Jenkins. Tom's subsequent behavioral setback demonstrates a predictable consequence of such an unfortunate action.

Ms. Taylor and Ms. Jones co-teach a middle school class in which children in special education programs are included with general education students. When Katy, a student with a behavior disorder, is particularly disrespectful and Ms. Jones dismisses it lightly, another student objects and points out that other students in the class would be sent to the office for such a remark.

Ms. Stanley and Ms. Diaz are co-teaching one period together, where the classroom they are sharing has been Ms. Diaz's for 15 years. Unfortunately the two teachers have very different teaching strategies. Ms. Diaz, believing there is a certain percentage of students destined to fail, is strict and unyielding with the students. Ms. Stanley has spent two years working with "at risk" students and believes that all students can succeed with support. Ms. Stanley has tried to talk to Ms. Diaz about their differences but to no avail.

A new 11th grade student at Lincoln Academy, for learning disabled students, arrived with an "attitude" and a massive cumulative file documenting her previous "educational wars." After trying numerous strategies, Kim Statler, a third year teacher, is at a loss as to how to reach this student.

Supplemental Cases

(These cases can be used to address the competency but must be supported with additional questions and structure from the instructor)

A Consequence of Testing ALL Student

Alexis Shuban, a high school special education supervisor is shocked when a student earns an unusually high score on an eleventh grade achievement test. His score is so high, in fact, that he would be eligible for an academic scholarship if he had taken a college preparatory program of study. Unfortunately, this student, a high school senior, has been in special education classes since the 5th grade and has not taken a college preparatory program.

Invasion of Privacy

Sean Michaels was a seasoned professional with ethical concerns regarding the safety of his female students. A new student, Juan Curare, was a convicted sex offender who verbally harassed on of Sean's female students. The school principal forbade Sean to warn the female students about Juan's past.

Pam Todd was an experienced and exceptional teacher who brought out the best in her student Juan. But, was her approach appropriate? Mr. Lang, the school psychologist didn't think so. He thought she was overstepping her boundaries as Juan's teacher.

What IS an Appropriate Education?

The Burrows family was coping with their eleven year old daughter's recent diagnosis of tuberous sclerosis, a rare degenerative neurological disorder. Melissa was experiencing excessive pain and drastic changes in behavior due to the growth of tumors in her brain. The medication prescribed to slow the growth of tumors was indirectly causing obesity. As she became increasingly aggressive, her teachers as well as her family struggled to control her physical outbursts. When a residential placement became a necessity, a dispute arose between the school board and the Burrows over where Melissa should be placed.

Shakira is a physically aggressive fifth grader who is 5 feet tall and weighs 240 pounds. Identified as emotionally handicapped in the 3rd grade, she is often absent and has already failed one grade. No one, including the social workers, the teachers or her mother are able to do much about her absenteeism, or her behavior. Shakira's teacher Ms. Smith, who is concerned about the effect Shikira is having on her other students, searches for a way to reach her.

Back to CEC Competency Index Page.